Shopping Basket
Your Basket is Empty
There was an error with PayPal
Click here to try again
Thank you for your business!
You should receive an order confirmation from Paypal shortly.
Exit Shopping Basket
Tara's Toyland Home Daycare
Where Learning is Fun and Friendships Flourish
I love planning curriculum.  I think in college I should have gone into that as a field of study but I had no idea it was even an option. I did an independent study on why thematic teaching is the best method and developed my own theme as a college Senior. Coming up with creative ways to make all the spokes of learning connect together makes me so excited.  Often I think of a theme I want to do and start collecting items to go with it so that when I have enough I can dive into a new...
Read Full Post »
During our Nursery Rhyme unit we did the rhyme Jack be Nimble.  First we jumped over candle sticks changing the rhyme to match the name of the jumper.  Then we changed it from candle stick (which rhymes with quick) to different objects and came up with rhymes for those new things.  For instnace "Miss Nora be nimble, Miss Nora be fair, Miss Nora jump over the daycare chair"  This was SUPER tricky so we had to figure out our rhymes first.  Rhyming is a prereading skill ...
Read Full Post »
*We started today by watching a Kid's Songs video about the circus. While we watched we listed what we saw, heard and what we would have smelled, touched and tasted.
We also learned that unicycle means one wheeled because uni means one. We made our own unicyclists.
Then we popped popcorn and talked about why it popped (it has a tiny drop of water in it and the heat made the water expand then burst). We sand a fun popcorn song tha...
Read Full Post »
We just finished up our Rainforest theme.  I had been wanting to do this theme for a super long time but never had a time when it seemed right.  I had a really good time with it. I liked how I was able to combine  reptiles, bugs, plants, animals, and so much more all in one unit.  Those are usually my spring themes separately so it ws neat to combine them.  
Here are my daily updates I posted for the parents during the unit:
Today we learned t...
Read Full Post »
We had started a Pirates theme when I came across this HUGE box. I dragged it home and went to work creating a pirate ship.  The kids loved steering the ship, sailing on the high seas and exploring for treasure.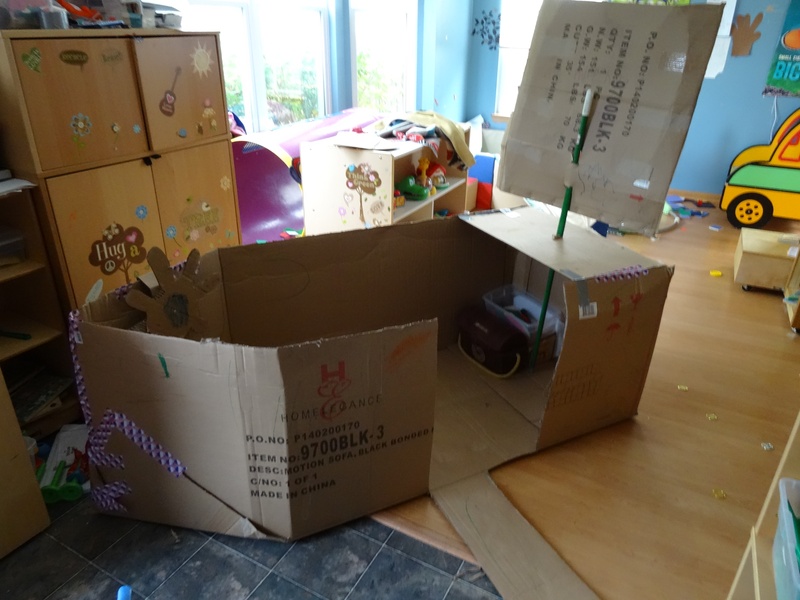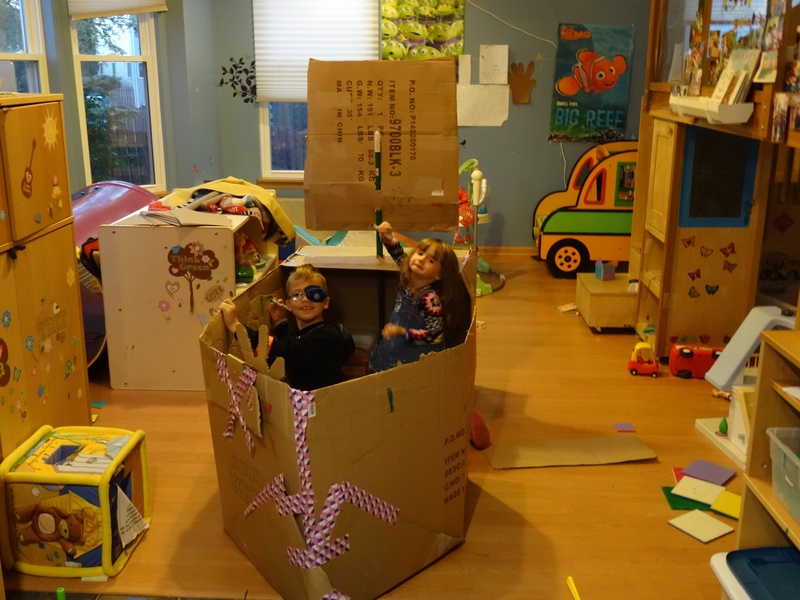 Read Full Post »
We had a super time learning about the things inside of our body like blood, muscles, bones, tendons and organs.  There were lots of science experiments during this unit.  
Here are two kids exploring blood, well, not real blood, but a model of blood.  The red water beads represent the red blood cells that carry oxygen to our body parts.  The white ping pong balls represent the white blood cells that attack germs.  The pieces of red craft foam are the platelets ...
Read Full Post »
/