Shopping Basket
Your Basket is Empty
There was an error with PayPal
Click here to try again
Thank you for your business!
You should receive an order confirmation from Paypal shortly.
Exit Shopping Basket
Tara's Toyland Home Daycare
Where Learning is Fun and Friendships Flourish
We just finished up our Rainforest theme.  I had been wanting to do this theme for a super long time but never had a time when it seemed right.  I had a really good time with it. I liked how I was able to combine  reptiles, bugs, plants, animals, and so much more all in one unit.  Those are usually my spring themes separately so it ws neat to combine them.  
Here are my daily updates I posted for the parents during the unit:
Today we learned that the rain forest has four layers. We concentrated on the bottom most layer - the underlayer. This is the ground layer, it's dark, there are lots of leaves and it's wet and there are lots of snakes and bugs. We did snake painting then added a caterpillar, butterflies and other bugs. We read a LOT of books about bugs and snakes: That Bug, Hello Bugs, Bugs!, Spiders are Special, The Spider and the Beehive, Spiders Spin ,Insects Number Find, Ten Busy Buzzy Bugs, and Big Bug Little Bug.  Plus Snakes Long, Longer, Longest and talked about those terms using plastic, stuffed and wood snakes we have out for play time.  We sorted and identified plastic bugs. Whew! Busy day as usual. We will do a different layer of the rainforest each day and create a complete forest by the end of the unit.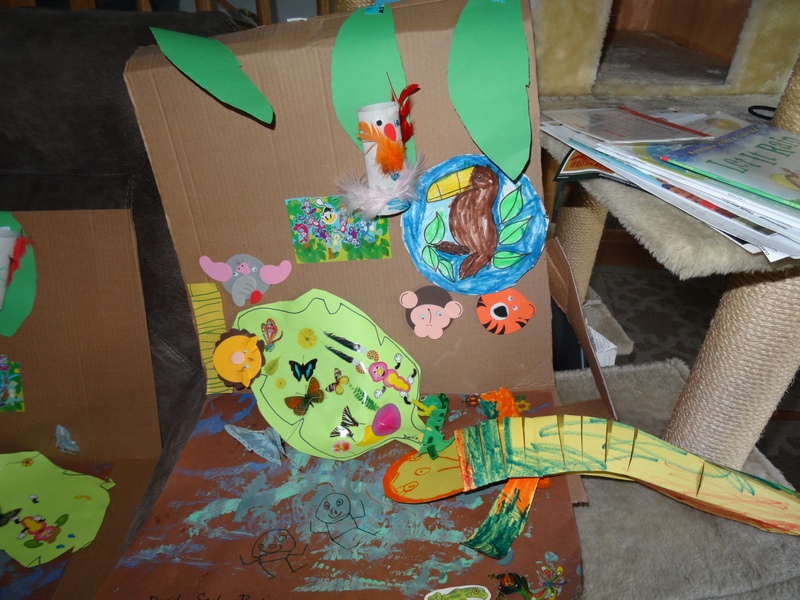 *we read a lot more rain forest books and discussed the layers of the rain forest some more, the kids were very excited to make the creatures you find in a rain forest and we added them to our diorama we are making
The kids went to the jungle/rain forest today. They saw snakes, bugs, monkeys, tigers and lots of alligators. They built a campfire also . Oh, this was all in the front yard by the way,
we were playing outside and it started to rain - the kids were thrilled when I pulled out the rain ponchos and let them keep playing - especially because they were a zebra poncho, a tiger poncho and a giraffe poncho! Went perfect with our jungle theme
*today we read Chameleon's Colors then watched videos of real chameleons... one video we found out was a fake one though (the sunglasses one)
We made chameleon's, talked again about the layers of the rainforest, finished our diorama (the kids cut out 4 leaves together and were amazed that cutting ONE time made 4 things, miracles of folding paper, lol),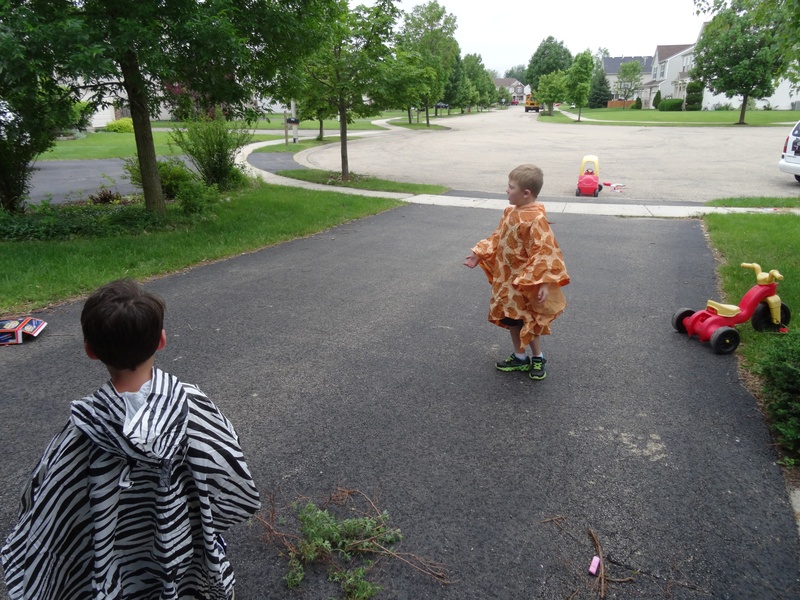 Categories: Preschool Ideas, Day Care, Themes!
/